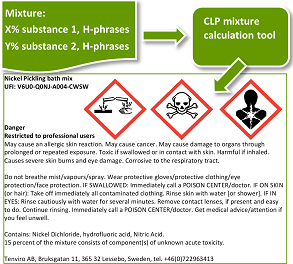 CLP mixture classification tool
Substances & mixtures supplied in the EU must be classified and labelled according to regulation EU 1272/2008 (CLP). This also applies to samples and other lab mixtures to be sent to third parties. Even occupational health legislation in some EU member states requires internal (work) stocks, mixtures, process baths and pipes to be classified & labelled according to CLP.

Because classifying & labelling mixtures is difficult, we have developed a handy tool in Excel that:
classifies mixtures according to CLP calculation rules for health & environmental hazards on the basis of H-phrases and concentrations of ingredients
drafts the hazard label with signal word, H & P phrases, pictograms and relevant substances
translates the label information in any desired language of the 27 EU member states (and Norwegian)
gives conclusions regarding SDS duties, special packaging requirements, UFI/ PCN duty and Seveso category.
Customers include hospital laboratories, other downstream users & mixture suppliers. With the tool, classification & labeling or checking labels takes only a fraction of the time.

For more information see the introduction film, download the Brochure or contact us